It's the summer holidays. Kids don't need to go to school – yay! If you know some younger potential gamers who might be converted to the roleplaying cause, why not buy them a game to start them off with? (You may even want to run one for them, depending on how old they are.)
But which roleplaying games work best for new roleplayers? Read on…
The Obvious Choice
The new 5th edition of Dungeons & Dragons has proved to be hugely popular with roleplayers young and old. And it has a Starter Set especially designed for beginning roleplayers. It's got everything you need to get started (including dice) and is completely compatible with the other 5th edition D&D products once the group outgrows it and wants something more complicated.
The Nostalgic Choice
If you're my kind of age (mid-40s), then you very well may have got your first taste of role-playing with the famous 'red box' Basic Dungeons & Dragons. This is still a great choice today, and of course one of the great things about shops like The Shop on the Borderlands is that we have old versions of D&D in stock.
The Almost As Obvious Choice
I put D&D as my 'obvious choice' because it's what most people think of when you say "roleplaying game" and there's a good chance that people will be aware of the brand. However in terms of brand awareness, D&D is insignificant compared to Star Wars. And guess what, there are no less than three different but compatible current Star Wars RPGs, each with their own Beginner Game.
Which one you choose will depend on the sort of campaign you want to play in. Fancy fighting for the Rebels against the Empire? You need 'Age of Rebellion'. If hanging out in cantinas with smugglers and bounty hunters is more your thing, then go for 'Edge of the Empire', and if you want to be one with the Force wielding your lightsabre, choose 'Force and Destiny'. All of these games are compatible with each other and their more complicated core rulebooks, so like the 5th edition D&D Starter Set, there is an obvious upgrade path.
Choices for Fans of Superheroes
Nowadays it seems that three out of every four Hollywood blockbusters are superhero films. For the young superhero fan, there are some suitable beginner RPGs.
For Batman fans, the Batman Role-Playing Game is a cut-down version of the full DC Heroes game. It comes in a single paperback book format, so it's perfect to take on holiday.
Marvel fans can choose between two different Marvel RPGs. The more recent (and somewhat glossier) is The Marvel Universe Role-Playing Game while the older Marvel Super Heroes was produced by TSR when they were making D&D, and has rules which will be very easy to pick up for anyone who has played that game. Both are very good games for beginners, with plenty of advice on how to run adventures.
The Portable Choice
If you fancy some roleplaying on holiday and luggage space is tight, some of these larger boxed RPGs might not be so good. In this case, consider the classic British RPG 'Dragon Warriors', which unusually was published in three volumes in the same format as regular paperback novels. Quite apart from the handy form factor, Dragon Warriors was a good fantasy RPG in its own right, and well-suited to beginners.
The Not-Quite-Roleplaying Choice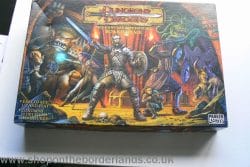 If you think you might have to be cunning in getting the youngsters hooked on roleplaying games, try exposing them to the Dungeons & Dragons board game first. It's a fun family board game, but close enough to real D&D to be something of a gateway drug.
The Big Battles Choice
OK, so it isn't a roleplaying game, but it is fantasy. It's a very easy way to play out big fantasy battles, using little plastic miniatures that come with the game. I'm talking about Battlelore. We have a whole range in stock. Once your players are a little older and you've introduced them to Game of Thrones, they'll love the fact that the same rules are used in the Battles of Westeros series too.
So go on, introduce some youngsters to roleplaying games. It might just turn out to be the best thing you ever do for them. As a special incentive, if you buy a game from us as a gift for a younger gamer, send us a photo of them playing the game and tell us a bit about it. We'll publish the best one and send them something extra for their game as a special "Welcome to Roleplaying" prize!